10 Interesting things you can do in Alleppey
Often when one hears the name Alleppey, images of serene backwaters and traditional houseboat in alleppey come to mind. However, Alleppey, also known as Alappuzha, has much more to offer than just its world-famous backwaters. This little paradise in Kerala boasts of an array of activities that cater to travelers of varied interests. Here are 10 of the most intriguing Activities in Alleppey you can indulge in your visiting.
1. Embark on a Backwater Houseboat Cruise
"Travel makes one humble, you see what a tiny place you occupy in the world." — Gustav Flaubert

Starting our list with the quintessential Alleppey experience: a houseboat cruise. Lake Park Cruise offers a unique experience of drifting through the picturesque backwaters. As you glide on the waters, be enthralled by the sights of palm trees, paddy fields, and local fishermen employing traditional Chinese fishing nets.
2. Witness a Tranquil Sunset at Pozhiyoram
The lesser-known Pozhiyoram beach offers an undisturbed view of the setting sun. The calm ambiance of this beach, coupled with the mesmerizing sunsets, makes it a must-visit.
3. Rejuvenate with an Ayurvedic Massage
Indulge in an authentic Kerala Ayurvedic massage. A blend of therapeutic oils and traditional techniques ensures that you're refreshed and revitalized.
4. Relish a Traditional Uduppi Breakfast
Treat your taste buds to a traditional Kerala breakfast in an Uduppi hotel. Delight in flavorsome dishes like Puttu, Vada, and chickpea curry served on a fresh banana leaf.
5. Explore the Historical Krishnapuram Palace
Get a glimpse of Kerala's rich history at the 18th-century Krishnapuram Palace. The Gajendra Mural, the state's largest mural, is an art lover's delight.
6. Savor the Sweet Milk Porridge at Ambalapuzha Temple
Known for its structural beauty and spiritual significance, the temple also offers a delicious milk porridge called Ambalapuzhapalapayasam.
7. Plan a Picnic at Marari Beach
Relax under palm trees, savor the sea breeze, and enjoy a delightful picnic at Marari beach. This pristine beach offers the ideal setting for a leisurely evening.
8. Visit the Karumadikuttan Statue
Witness a slice of history with the 10th-century Buddha statue at Karumadi. The early morning view of the statue against the orange sky is simply surreal.
9. Admire the Swarovski Crystal Collection at Revi Karunakaran Museum
Delve into the world of art and antiquities at the Revi Karunakaran Museum. The vast collection of Swarovski crystals is particularly impressive.
10. Experience the Thrill of a Snake Boat Race
Join in the festivities of the traditional snake boat race held during the Onam festival. Witness teams row their slender boats to the finish line amidst loud cheers.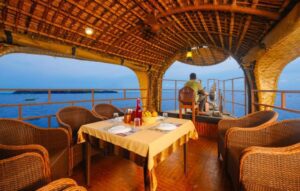 In conclusion, Alleppey, with its myriad of activities, is a gem in Kerala's crown. Whether you're looking for adventure, relaxation, or a dose of culture, Alleppey has it all. Plan your visit during the prime seasons of rainy or winter (October to March) to make the most of what this enchanting place has to offer. So, are you ready to explore the wonders of Alleppey with Lake Park Cruise?