A Day Out in the Houseboats of Alleppey with Lake Park Cruise

Drift through the Venice of the East and experience the magic of the backwaters with Lake Park Cruise. Dive deep into the essence of Kerala's enchanting landscapes.
Kerala's Best Kept Secret: The Serene Backwaters
Alleppey, an emblem of Kerala's pristine beauty, beckons travelers to embark on a captivating journey. The charming houseboats, reminiscent of Venice's gondolas, offer an unparalleled experience amidst the tranquil backwaters.
"Alleppey's houseboats are more than a mode of transportation; they are a doorway into the soul of Kerala."
Planning Your Perfect Day on a Houseboat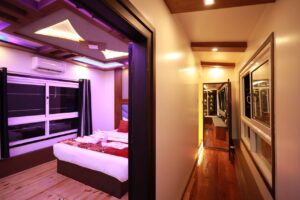 Making a Reservation: On arrival, you can either book on the spot or, for a seamless experience, pre-book your houseboat with Lake Park Cruise. We offer a range of options to fit your style and budget, from deluxe to premium stays.
A Warm Welcome: As you step onto the houseboat, you're greeted with invigorating juices, the perfect start to a relaxing journey. Explore the boat's intricacies – its rooms, deck, and gallery, all awaiting your discovery.
The Mesmerizing Voyage: Let the gentle sway of the boat transport you into a world adorned with tall coconut trees, sprawling paddy fields, and the melodious chirps of migratory birds. Witness the dance of seagulls and the elegance of fellow houseboats crisscrossing the waters.
A Culinary Affair: Anchor at a picturesque spot and savor Kerala's authentic cuisine. The seafood delicacies, served amid the gentle breeze, offer a gastronomic delight not to be forgotten.
Dive Deeper into the Backwaters: Opt for an hour-long canoe ride to delve into the heart of neighboring villages. Witness local life unfold, from fishermen casting their nets to children playing along the banks.
Sunset Serenade: As evening descends, watch the waters shimmer, reflecting the golden hues of the setting sun. Enjoy some delightful tea and snacks, creating memories that'll last a lifetime.
The Homeward Journey: As your day draws to a close, retreat to the comforting rooms of the houseboat, or if you've opted for an overnight stay, await a scrumptious dinner under the starlit sky.
In the heart of the backwaters, whether you choose to explore the shores or bask in the luxury houseboat in alleppey, Alleppey promises a day of pure enchantment. With Lake Park Cruise, your journey becomes not just a trip, but an unforgettable tale of discovery.