Alleppey Houseboat Experience : Your Gateway to a Satisfying Voyage Amidst the Serene Backwaters
Embark on the ultimate Alleppey Houseboat Experience, where serene backwaters, lush landscapes, and traditional luxury converge to create a voyage like no other.
The tantalizing scent of fresh, salty air, gentle ripples in the lush lagoon, and the serene ambiance that only the backwaters of Kerala can offer; the houseboats in Alleppey promise more than just a journey — they pledge memories that linger forever.
Stepping into the 'Venice of the East', your heart might flutter with excitement as the tapestry of vibrant natural beauty, intertwined with rich culture and tradition, unveils itself. Alleppey, with its enchanting backwaters, holds the secret to a transcendent escape into nature's very own cradle.
Uncover the Secrets of the Alleppey Houseboats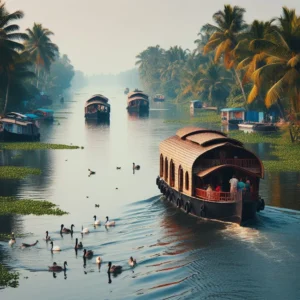 Allow us to guide you through the labyrinthine waters and into the soul of Alleppey, revealing how these houseboats harmonize luxury, tradition, and nature into one beautiful symphony.
1. The Rich Palette of Houseboat Options
Each houseboat in Alleppey, whether it be a cosy single-deck or a lavish double-deck, is a unique amalgamation of traditional Kettuvallam design and modern luxury. They range from the exuberantly luxurious to charmingly simple, ensuring every traveler finds their perfect match.
Deluxe Houseboats: Embark on a journey that promises comfort and stunning views without causing a ripple in your budget.
Luxury Houseboats: Surrender to the arms of opulence with extravagantly furnished rooms, exquisite cuisine, and unparalleled service.
2. Bask in the Delightful Stay Options
Your adventure can be as fleeting or as extended as your heart desires, with several cruise options available:
Day Stay: Absorb the essence of Alleppey in a brief yet captivating day cruise.
Night Stay: Immerse yourself in the tranquil night, beneath the starlit sky, with a rejuvenating overnight stay.
Two Nights Stay: Truly disconnect and surrender to the peaceful backwaters with an extended escape.
3. Culinary Experiences on the Waters
Navigating through the calm waters, you'll be treated to a culinary journey that is as mesmerizing as the vistas surrounding you.
Breakfast: Begin your day with a hearty breakfast, featuring local and international favourites.
Lunch: Experience the robust flavours of Kerala with a lavish spread of local dishes.
Dinner: End your day with a delightful assortment of regional and continental cuisine.
Pro Tip: Special dietary requests and celebrations are catered to with utmost care and enthusiasm.
Ignite the Spirit of Exploration with Alleppey Houseboats
Let's dive deeper into this voyage, where each ripple in the water tells a story and every whispering palm narrates a timeless tale.
As you float through the tranquil waters, enveloped by a verdant cocoon of palm trees, the gentle hum of life along the backwaters serenades your every moment. Fishermen cast their nets with seasoned finesse, while local women in colourful saris offer warm, hearty smiles from the shores.
The Cinematic Charm and Elegance of Alleppey
It's no wonder that the enchanting houseboats of Alleppey have graced the silver screen, weaving a narrative that intertwines love, nostalgia, and a lingering sense of belonging. It's more than a journey; it's where stories intertwine with reality, where every sunset paints a picture in your heart, and where every dawn brings forth a new day of exploration and discovery.
"Explore, Dream, Discover" — Dive into the Mesmerizing World of Alleppey
Embark on your own cinematic journey through the stunning backwaters, exploring hidden gems, and crafting memories that will be cherished for a lifetime. Whether you're capturing the candid moments of local life, or simply allowing the lush landscapes to imprint themselves in your memory, your time aboard our Houseboat in alleppey will undoubtedly become stories worth retelling.
Explore Our Collections and find your perfect houseboat to navigate through the mesmerizing backwaters, embracing every moment, every sight, and every new discovery that awaits you at Alleppey — your gateway to exploring 'God's Own Country'.
Embark on a Memorable Voyage with Lake Park Cruise
At Lake Park Cruise, we weave together luxury, tradition, and nature to curate unparalleled houseboat experiences in the enchanting backwaters of Alleppey. Our meticulous attention to detail, commitment to impeccable service, and an array of houseboat options stand as testimony to our dedication towards ensuring that every moment you spend with us is nothing short of magical. Whether you're seeking a Deluxe Houseboat in Alleppey or dreaming of an ultra-luxury escape amidst the serene waters, we're here to turn your dreams into reality. From the moment you step aboard to your last wave goodbye, every memory crafted with Lake Park Cruise will be a treasure to cherish forever. Contact Us to find your perfect Alleppey Houseboat Experience amongst the myriad of houseboat options in Alleppey, and let's set sail towards horizons adorned with breathtaking sunsets, whispering palms, and tranquil waters.